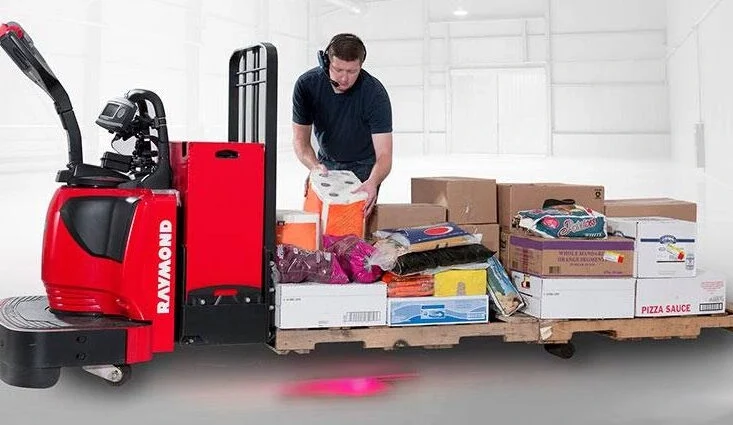 Everything you need to know about Walkie/Rider Pallet Trucks
Forklift Training Centre Brampton has devised several programs for individuals or firm employees with the prospect of promoting workplace safety. When choosing a work-safe training academy, the features at the forefront of everybody's mind are the protection of their business and employees and the facilities offered. With our comprehensive Walkie/rider training program, rest assured you will be receiving in-depth, result-driven professional training with the safety of your employee, equipment and facility as our number one priority. 
But before jumping right to the training part, it is your moral imperative to educate yourself about the equipment you will be trusted to handle on a daily basis someday. This safety training blog covers the following topics:
Mechanism 
Industries using this equipment 
Operation
Other equipment safety tips
With a heavy-duty frame and durable undercarriage, Walkie/Rider Pallet Trucks are built like a tank. With a capacity of 4500-6000 lbs, motorized pallet trucks are ideal for indoor applications with confined spaces. It usually has a short inbuilt lithium ion battery box that can be charged to total capacity in a fraction of the time it takes to charge a lead acid battery. They have powered drive systems and hydraulic lift capabilities, controlled by the operator, to enable the lift to raise and support heavy loads.
Now there are two different types of motorized pallet trucks. The term walkie pallet truck is used to describe a motorized truck in which the operator either walks behind or alongside the equipment. They are a sustainable option for lifting heavy loads when short distances are to be covered. Their small size and slower speed make them easy to maneuver and they are also a cost-effective alternative to a rider pallet truck. 
The term rider pallet truck is used to describe a motorized pallet truck that comes with an in-built platform to make space for the operator so that he can ride the equipment while maneuvering it. Investing in a rider pallet is most feasible when the day-to-day business involves carrying heavy loads over larger areas frequently. 
Industries using this equipment
Walkie/Rider Pallet operates efficiently indoors on a low level as a warehouse picker and pallet mover. Being easy to maneuver and great for stacking and storing, they provide valuable service in areas where materials are frequently handled and are considered an authentic solution to several challenges faced in a variety of industries and applications, namely warehousing, manufacturing, retail, food storage, cold storage and many more.
There can be many different pallet trucks but they all have one thing in common. They all can prove to be extremely dangerous when operated by an untrained person in an unsafe manner. Forklift training Brampton's CSA standard compliant Walkie/rider training programmes train operators on how to safely use electric-powered pallet trucks, enabling them to deliver loads while avoiding injury and property damage. Almost all kinds of pallet trucks have the following features in common. Directional and speed controls, lift and lower buttons, a T-bar support handle, grab rails, a horn and battery, pallet forks, load wheels, steering tires and brake controls. A common safety feature found on any pallet truck is the reverse switch found on the T-bar. This safety device helps protect operators from being pinned by the equipment against any surface. 
Some equipment safety tips 
First and foremost, ensure that you are adequately trained and certified to operate the pallet trucks.
Strictly adhere to the Occupational Health and Safety Regulations. 
Make sure to work in sync with the rules laid down by the advisory of your establishment.
Use the equipment for exactly the purposes it is intended and designed for.  
Always conduct preshift inspections.
Make sure monthly inspections for all the machinery are conducted to ensure timely repairs.
Immediately report any breakdowns in the machinery or lapse in protective mechanisms. 
When choosing an academy, the first thing that you need to make sure of is whether your academy's programmes align with OSHA guidelines and if it provides all-inclusive, practical and theoretical training, so once you complete your training you walk out with valid certification and the confidence to take on the challenges associated with this skill-based career. Forklift Training Centre Brampton is a best-in-class forklift training and certification academy that understands the student's level of comprehension and fine tunes and calibrates your skills for peak performance. We have exceptionally trained professionals who make the learning journey feel like a breeze. Not only that but we also offer free job programmes to help you get working, as soon as you complete your certification. We believe in the mission to develop the workforce for the future and create a safer workplace environment. So if you are looking to get trained or renew your certification, book your seat today for our walkie/rider training programme and quit taking your career for a "RIDE".